Ahoy there mateys! I hope you've all had a fun weekend. Did you host a party? Thankfully this weekend was quiet in my house after several weeks of crazy busy weekends. For todays party inspiration you'll need to pop on an eye patch and find a parrot to sit on your shoulder!
Pirates have always been a favourite with boys but with the swashbuckling adventures of Elizabeth Swan in Pirates of The Caribbean I am sure pirates have become popular amongst girls too. This theme is fab for parties with costumes being easily acheivable and treasure hunt games can be played wherever your party venue.
A pirate party tends to have the strong colour scheme of black, white and red. Although I am sure that blue and white work well for this theme.
There are some fab pirate goodies available on
Not On The High Street
and
Party Pieces
. Also
Etsy
offers some fantastic printables to help make your party the swashbuckling adventure your child wants.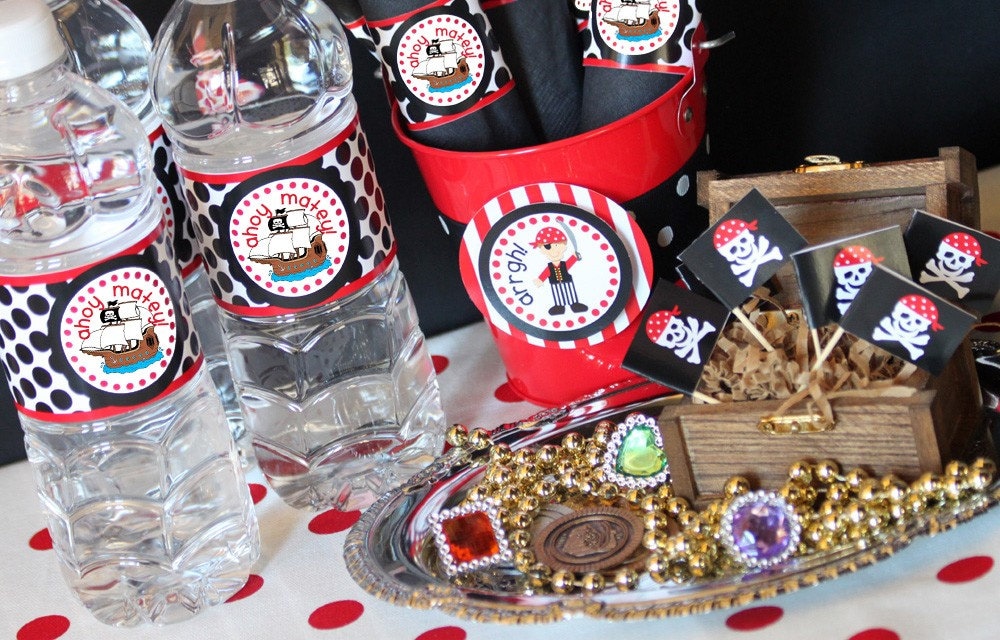 The captains birthday cake could be a galleon or a pirates hat or even a cupcake treasure map.
Aswell as a treasure hunt you could play pin the patch on to the pirate and I'm sure a sword fight will be inevitable! But perhaps it could be played with long balloons instead of wooden swords? I remember playing a game when I was younger that I think was called Port, Starbord where directions were shouted by the 'captain' aswell as actions like 'climb the rigging' or 'scrub the deck' which would be a perfect game at your pirate party.
So now all that's left to do is blow up lots of black balloons and hope the guests don't make you walk the gangplank!!
Have fun
Zoe
x